PayTek v2023 and Single Touch Payroll Phase 2
Before you update PayTek to v2023, please read the following information below.
Open PayTek

> Click "Help"
> Click "Check for updates"
and follow the instructions to complete the installation of the update.
You must follow the 4 Steps below for each company payroll file to prepare for STP Phase 2.
When you open ANY company payroll file (regardless of the financial year) PayTek will upgrade the database to make it compatible for STP Phase 2.
If you employ Working Holidaymakers and/or have staff with Child Support Deductions, please refer to the relevant heading following Step 4.
Once PayTek is restarted after the update to v2023, it will automatically upgrade each company payroll file that you open.
During this upgrade, PayTek will prompt you to enter the year of any lump sum E payments (back payments) made to your employees in the file. If you do not have any lump sum E payments, this prompt will not appear.
(There is no need to do any of the next steps for an old company file that you have finalised for STP)
STP Phase 2 requires that you report the date and reason for cessation for any terminated employees so enter this information.
See Note 2 below for more information.
Check that the employee types are correct for each employee. Most employees are Salary and Wages employees.
Closely Held Employees (directors or family members of business owners) is a new category so check this ATO page to see if you have any closely held employees.
See Note 3 below for more infomation.
Review your pay item file.
The main change will be to categorise the pay item file (particularly what was previously gross income) into more detail as required by selecting the appropriate sub-category. See table below under the heading Note 4 for a comprehensive list of all categories.
PayTek will attempt to re-categorise the pay items based on the name but you must check the results. Since the pay items are user-definable, we cannot guarantee the accuracy of the conversion.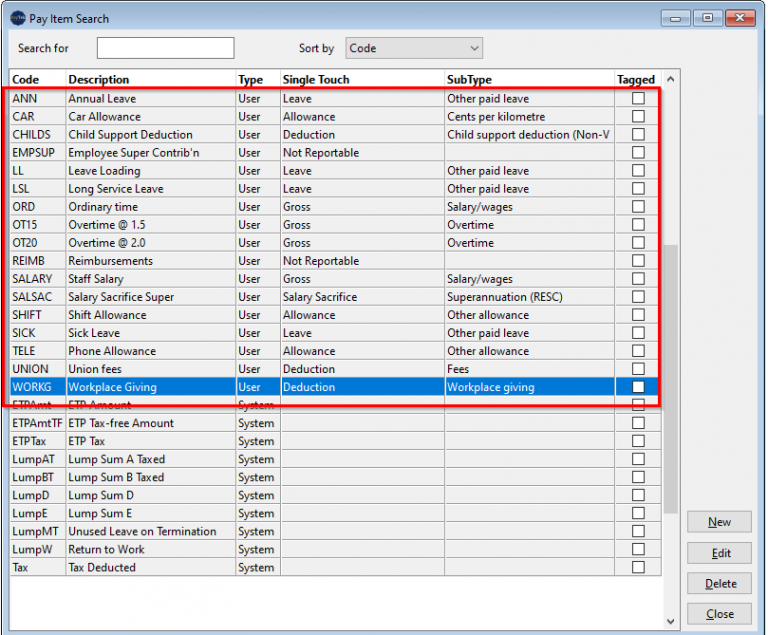 See Note 4 below for more information.
IF you have working holidaymakers on file, you must now report the country of residence for them.
You should also specify if you are a registered working holidaymaker employer. This affects the tax rate used for your working holidaymakers.
For more information, please refer to this ATO page.
See Note 5 below
IF you have withheld child support from any employees you must report the YTD deductions withheld from each employee prior to reporting with STP Phase 2. In this case, it may be easier to complete 2022 before upgrading to the new version of PayTek.
Please refer to this ATO page for information on what is required before reporting your child support deductions in PayTek.
Once you have read and completed all the steps, you are ready to start reporting to STP Phase 2.
What is STP Phase 2.
STP Phase 2 is an expansion of the single touch reporting system to report more information automatically to the ATO about your payroll.
This ATO page explains the STP Phase 2.
What information is sent to the ATO.
There are 2 parts to a pay event.
For each payrun, the following is sent as a pay event.
Total Gross payments for the payrun
Total Tax deducted for the payrun
Total Child Support Deduction amount for the payrun
Total Child Support Garnishee amount for the payrun
As well as the payrun totals, the YTD pay amounts paid and deducted (including superannuation) are sent for each employee.
If you send an update (say to make a correction) then only the new YTD employee amounts are sent.
Only YTD dollar amounts are sent (not hours or accruals) to single touch.
Also the tax declaration details for each employee are sent each time (this is extracted from the tax table selected and other tax settings etc).
Note 2 - Reason for cessation of employment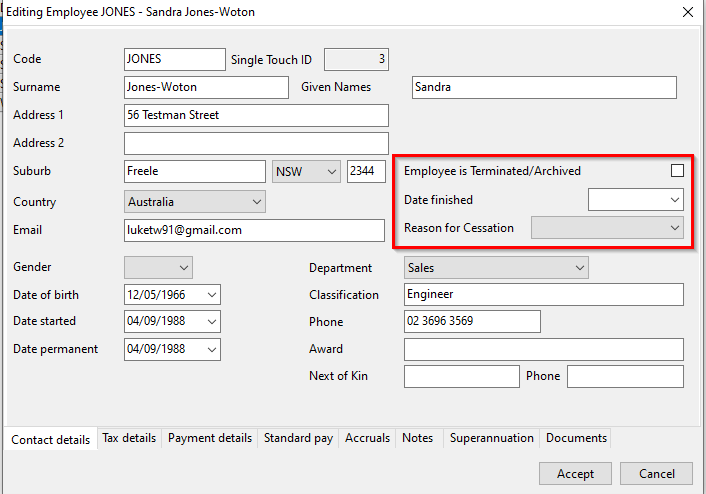 STP Phase 1 submitted a gross income amount for employee.
STP Phase 2 requires it to be split up into different categories. This may involve adding additional pay items in PayTek.
The table below lists the categories and sub-categories you are now required to report to STP Phase 2.
Review your pay item file to ensure each existing item is categorised correctly.
Next, add any new pay items as necessary to comply with the ATO.
This ATO page goes into more detail about how payments to employees should be coded.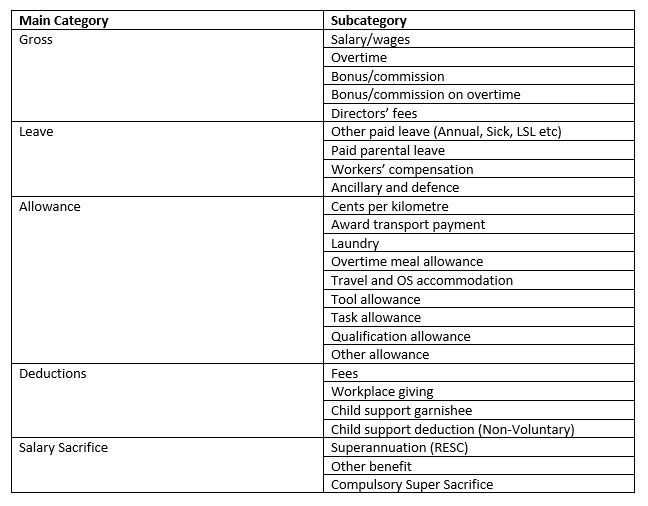 Note 5 - Working Holidaymakers
Each working holidaymaker must be specified as such and taxed accordingly. If you are not registered as a working holidaymaker employer, PayTek will tax them at a higher rate.
You must also enter their country of residence.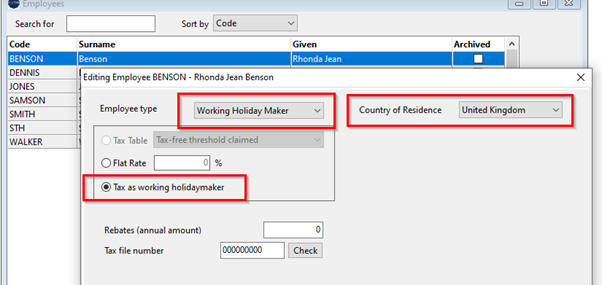 Go to Setup… Options to nominate if you are registered to employ working holidaymakers.